Friday recap: 8 updates for search and social – What's new with Instagram, Pinterest, Whatsapp, LinkedIn and Google
If you're an avid reader of our blog (isn't everyone?), you may have noticed we didn't stick with our usual Friday recap post last week.
Instead of covering the week of industry news we published the Highlights from the CMI content marketing 2017 report, and for good reason, as it contains some really interesting results! By doing this, however, we missed out on all the exciting news stories from last week.
Rather than leave you in the lurch, this edition of 'Friday recap' will be a double bonus with all updates concerning search and social media from the last TWO weeks.
What are you waiting for? There's a lot to catch up on!
Instagram Stories gets a makeover
Instagram Stories are starting to get more advanced.
Boomerang, the video editing feature that was rolled out in October 2015, has now been introduced to the Stories reel in Instagram.
For those who aren't up to speed with with Boomerang, it's an app made by Instagram that lets you edit videos to play the same section back and forwards, on repeat. It's kind of like a GIF, but it doesn't play in a rolling loop.
Swiping into the Stories camera in Business accounts will show you a format picker under the record button, where you can choose to create a Boomerang video. The symbol for the feature is the infinity symbol, with Instagram's brand colours.
Mentions can now be included in Stories as well, allowing you to link to other people or businesses on Instagram who feature in your photos or videos. Just like mentions in your regular feed, you will receive a notification when you have been mentioned in someone's story.
Instagram will be trialling links at the bottom of Stories, but currently this feature will only be visible to a certain few. If made permanent, the ability to add links to Stories will be offered to verified accounts only.
All of these updates will be available when you upgrade your Instagram app to version 9.7.
Stories is also getting another two features as part of the overhaul: live video and disappearing photos and videos.
Live stories, which seems a lot like Facebook live streaming, allows users to record live video to their Story. The difference is that once you are finished live streaming in Instagram it will disappear from the app, whereas Facebook live videos stay on the user's profile to be watched at any point in the future.
The maximum length of the live videos is an hour, and followers may receive notifications to tune in to your Story while you are recording. There is also an icon under your story to indicate if you are recording live.
Disappearing photos and videos on Stories is not new, but now users can send them in direct messages to individuals or groups. Even though the content will appear in your friend's inboxes, it will be automatically removed as soon as they have seen it (like Snap Inc's app). The disappearing media can only be sent to accounts that follow you on Instagram.
The live video feature and disappearing photos and videos are available globally today. For more information on any of these updates, visit Instagram's Help Center.
10 Reasons Your Business Needs a Really Great Blog
Vertical ads in Instagram
You may have noticed that ads in Instagram are now available in vertical format.
Instagram said that the portrait style view had long been available on the platform for regular accounts, so they felt that businesses should be able to do the same. Both photo and video ads can be uploaded in the 4:5 aspect ratio, so that advertisers can determine which style suits their brand best.
Some businesses that have already implemented the vertical format have reported increased view rates, such as Brazilian soft drink manufacturer Guarana Antarctica.
Promote your videos on Pinterest and 'Explore'
An autoplay feature for promoted videos has been introduced and announced via Pinterest's company blog.
Similar to Facebook's autoplay feature when connected to wifi, videos will now start playing as soon as a user discovers it. Pinterest's aim for these promoted videos is to enable episodic viewing. As soon as one video finishes, another will start automatically. Brands can create series of clips that tell a story or drop hints about a new product.
Some brands have already got in on the action, like Macy's and Sony Pictures.
The videos can be viewed in a new section of Pinterest called 'Explore'. This part of the site will be filled with the top picks for users each day, so that people can see what pins are most popular and what is trending. Content will be selected by top tastemakers, industry experts and Pinterest's own employees, who have first-hand knowledge of what pins are trending on the site.
Explore is also personalised for each user with tailored recommendations according to their preferences. Pins are organised into categories at the top of the section, like Home, Food, Pets or DIY.
This gives businesses a unique opportunity within Pinterest that they have not had before – to get right in front of their audience before they even begin searching.
The updates will be rolled out immediately and should be seen by all users within a week.
Whatsapp video calling
The app that has been most popular for its group messaging and voice recorded messages has now introduced video.
Announced via the company blog, Whatsapp said that the function would be available to more than one billion users on Android, IPhone and Windows Phone devices.
"We're introducing this feature because we know that sometimes voice and text just aren't enough. There's no substitute for watching your grandchild take her first steps, or seeing your daughter's face while she's studying abroad. And we want to make these features available to everyone, not just those who can afford the most expensive new phones or live in countries with the best cellular networks." the company said.
It's no wonder that Whatsapp has finally enabled video conversations, given that this is already offered by many of their competitors, including Skype and Google.
Mark Zuckerberg, Facebook founder and acquirer of Whatsapp in early 2014, also shared the news on his Facebook page. He acknowledged that video calling on Whatsapp has been in high demand from the community, and that they have worked to ensure it is available even in places without a strong network.
Video calling in Whatsapp can be accessed worldwide.
Optimising content with LinkedIn
LinkedIn has updated its publishing experience and rolled out an audience insights feature, to help brands optimise their content.
Users can now add and edit multimedia within LinkedIn publisher, allowing them to enhance their posts with photos, videos, slides or podcasts. This is only available to individual accounts however, as company pages cannot post in LinkedIn publisher.
In case you missed it, hashtags are live in LinkedIn and work just like they do in Facebook and Twitter, clicking through to all content with the same tag. This means anyone searching on linkedIn for particular topics could see your article as a suggestion if you have hashtagged it.
Audience Insights allows users to see what they have posted and the interaction with their posts. Nearly every social networking or sharing site has this feature, so it's about time that LinkedIn caught up. If you tap the 'Me' icon in the mobile app you will see real-time information about your posts, shares and activity.
LinkedIn said that "Now you can better understand your audience — what companies they work for, their job titles, where they live, and how they found your post. With these insights you can better understand if you were successful in optimizing your post to gain visibility with the right people."
Google AdWords display changes
Gmail ads have been given a makeover. Now when users click on these ads from their mailbox they will be greeted with a catalogue style format.
The ads can expand to show up to four images or videos with descriptions attached, and will adapt to any device they are viewed on.
Location extensions for display are also available. The extensions highlight your address, directions in Google Maps and photos within your ad, in a bid to get more online browsers to your physical store location.
Google published a post to its blog containing these updates to encourage advertisers to make the most out of the holiday season, and take advantage of increased audience attention.
Real-time opening hours tracking with Google
Google has updated its 'Popular Times' feature to track real-time in-store activity.
The feature was introduced in July last year. It provides users with the most popular times and days at various destinations with an accompanying graph. Google announced through its blog that just in time for the holiday season, users would be able to see how busy a place is 'right now'.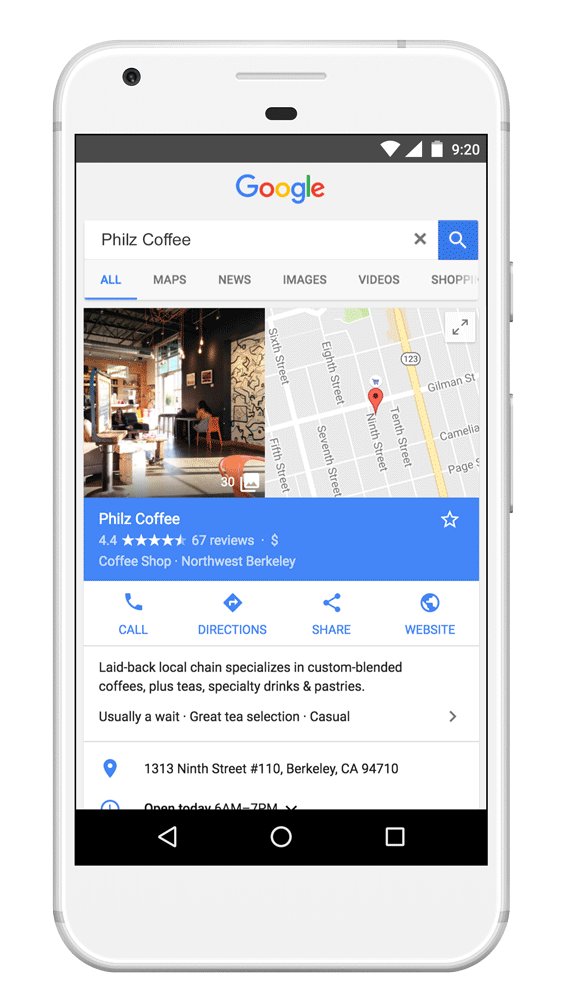 The update also allows you to check how long people typically spend at the location.
Businesses with this feature added to their Google listing can now adjust their opening hours. If it is a store or restaurant with various locations or different departments, two different sets of opening hours will appear under the listing.
Google Rich Cards available to more industries
Search results for local restaurants and online courses could now appear in the Rich Card format.
Google has opened up Rich Cards to developers with either of these sites. The cards are viewed in a carousel format so users can swipe through the results while staying on the search results page, or in a vertical three pack that shows more options from the site.
AMP HTML is not required to install the Rich Cards on your site, although it is encouraged in order to improve the user experience. Google has introduced new tools to make it easier for developers to implement the rich cards into their site, such as the Structured Data testing tool, Rich cards report and AMP test.
If you have questions about implementation, check out the developer site or the Webmaster Central forum on structured data.