Friday recap: Aussie Instagram stats and popular Youtube videos from 2016, updates to Google's app and LinkedIn message prompts
2016 is coming to a close and some sites have already started releasing their figures from the year. Instagram provides marketing statistics and examples from Australian users, whereas Youtube shares the most watched videos by Aussies in 2016.
Google made some changes to its app to provide users with a more personalised experience, and LinkedIn creates conversation starters to break the ice for Inmail messages.
Just for a bit of fun, we've also included Google's virtual tour of iconic New York Christmas window displays. Tis' the season, after all!
Spotlight on Australian Instagrammers
Each week Instagram's blog celebrates achievements from businesses and brands using their service all around the world. This week the spotlight shines on Australia, and Aussie businesses that are using the photo-sharing platform to reach their audience.
Australia has seven million active Instagram users. These users check their feed approximately eleven times per day! A recent study conducted by Instagram showed that over one-third of Australians are thinking of starting a business, and 70% of these potential business owners said Instagram would be one of their top choices for marketing.
The blog post highlighted Buena Vista Farm, an Australian business that found success using Instagram business tools and advertising options.
Instagram's focus is on encouraging its individual users to convert to business profiles and take advantage of the paid options they have on offer.
The company said that "…if you're a small business owner in Australia, Instagram is a place where you can share your passions to connect with new and existing customers alike. If you're already on Instagram, convert to a business profile to learn more about your followers and what posts interest them most."
As 2016 comes to a close, businesses that aren't already using Instagram should start thinking about how to leverage the platform in the New Year. From an engagement standpoint, it can offer some real benefits for getting more involved with your audience.
2016's most watched YouTube clips
Apparently, some of Australia's most watched YouTube videos involved Sia, stormtroopers and Superwog.
Each year YouTube puts together #YouTubeRewind, a compilation of all the most watched videos from the year. The selected videos are determined by a range of factors, including the number of shares, comments, likes and the amount of time spent watching them.
A popular choice by far for Australians was James Corden's Carpool Karaoke Series, which nabbed four spots in the top ten. The number one position was taken out by Adele's Carpool Karaoke clip, with over 136 million views and 1.7 million likes.
Sia's own Carpool Karaoke debut came in at the number four spot and Aussie YouTuber Superwog made the number 6 position, showing that Australians have a preference for homegrown talent.
In terms of most popular music videos, Australians most-watched the "Closer" video by the Chainsmokers featuring Halsey. The clip has over 818 million views and over 3 million likes.
Despite the threat of other video-sharing networks stealing some of its users, it would appear that YouTube is still garnering huge engagement levels from its audience. To see more results from #YouTubeRewind, visit the blog or the YouTube channel.
75 Tips For Improving Your Blog
Google's app gets personal
Google is introducing a new feed to its app that allows users to keep track of personal information.
The app can be used for checking news stories, tracking packages, organising schedules and more. All of the information is displayed in a feed with cards that represent each different interest or functionality. Announced on the company blog this week, Google will now separate these cards into two different feeds, one for interests and one for personal information.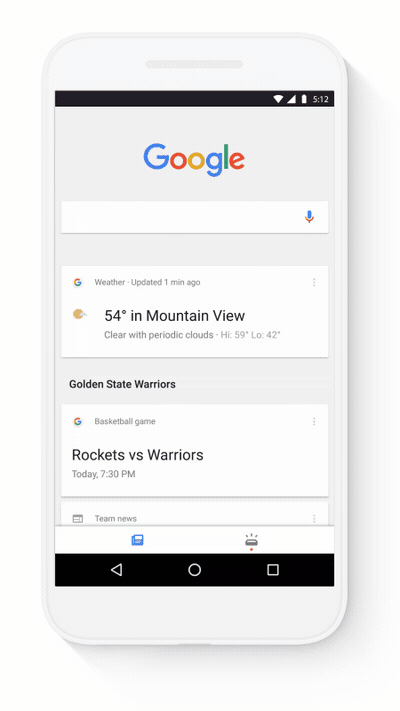 The first feed is designed to keep you up to date on stories from the web that match your interests. Google said that "The more you use Google, the more tailored and relevant your feed will become." This could be about certain sports, news stories, celebrities, or your favourite brands.
The other feed contains a dashboard of personal information like scheduling, commuting times for your favourite routes or package delivery status updates. The idea is that users will store more of their information into the Google app and use it for day to day tasks like storing boarding passes and keeping track of appointments.
The ability to tailor content for each user means it's now even more important to create targeted content for your audience. Updates like these show just how good Google is at determining what its audience wants to see, so it's important to keep up with this technology or risk being ignored.
The update is available on the app now for Android users ad will be coming soon to iOS.
LinkedIn conversation starters
To encourage its users to message contacts more frequently on the platform, LinkedIn has introduced 'Conversation Starters'.
The prompts can be seen when users open a new message on LinkedIn by tapping the light bulb symbol. Users can scroll through a number of selections with different suggestions of how to start the conversion.
The conversation starters are based on things like mutual friends in common, whether they have any recent achievements you can congratulate them for or other shared interests like history at the same company or attendance at the same school.
The encouraged use of InMail is likely another method to get users to spend more time on the site, rather than leaving to contact via email or other social networks that have advanced messaging platforms.
Christmas is all around (in New York)
And finally, Google has teamed up with some of New York's established department stores on Madison and Fifth Avenue to create Window Wonderland, a virtual reality tour of Christmas window displays.
To create the experience, Google took hundreds of high resolution photos and pulled them together to create panoramic images that make the user feel like are standing right there at the display. If you have a VR headset like Google Cardboard or DayDream the experience is even more enhanced. The images are of seventeen stores in total, including Bloomingdale's, Macy's and Saks Fifth Avenue.
To find out more about Window Wonderland check out Google's blog post, or head direct to the streets of Manhattan to view the displays.
Perhaps next year we'll be using the same technology to see the Christmas lights of Sydney… what do you think, Google?