Friday recap: Groups in Facebook Pages, a personalised Google feed and you can now ask Analytics a question
After a quiet couple of weeks, two major players in the content marketing world made some very interesting changes this week.
Both Google and Facebook have announced a number of updates, most of which is good news for marketers and business owners.
Facebook now allows Pages to create Groups for their most engaged followers, and has also updated previews of posts with links to further crack down on fake news sites.
Google has improved the feed on its app, making it even more relevant and personalised for users. Google Analytics has a new feature that lets users 'ask' it a question, and Google Home finally arrives in Australia.
Groups introduced to Facebook Pages
Pages in Facebook can now create Groups for their most engaged fans and followers.
The announcement was made by Chris Cox, Chief Product Officer at Facebook, through a post on his personal Facebook account yesterday morning.
Chris said that the idea came from a group created by two Washington Post employees that discussed story ideas and behind the scenes information with their most interested followers. The point of the group was to give more detailed, more in depth information to those followers who were most engaged with the brand.
"It was a digital version of letters to the editor, but with ongoing real-time discussions. The fans loved it and we heard from the Post that it was a success, connecting the newsroom with their most avid readers, and their avid readers with each other." Chris said.
This is a great opportunity for businesses to get more involved with their followers in a more intimate environment. The group gives the impression of exclusivity and offers more insights and information than the regular Page. It also provides the opportunity for more interaction with followers, by answering questions and having conversations with potential customers.
No more editing of Facebook link previews
Facebook is updating the ability to edit link previews on posts by Pages, to continue the fight against fake news.
Previously, spammy or fake news sites have been able to edit the headline, image and body text of a post when sharing links. This has allowed them to create clickbaity posts that deceive users into clicking through to a page with content that does not match the Facebook post.
While this may be inconvenient for some Page owners, it will ultimately improve the quality of links shared on Facebook, so that users know exactly what they are going to get when they click on a post.
For Page owners that will be unable to edit link metadata, Facebook is providing a solution.
"Today we're also releasing a solution to support publishers who rely on overwriting link preview metadata to customize [sic] how their content appears to audiences on Facebook. We're introducing a tab in Page Publishing Tools for publishers to indicate link ownership and continue editing how their own links appear on Facebook." Facebook said.
The new tab will only be available to those Pages that meet Community Standards and have not been found to share spammy content or mislead users.
For more information visit the official Facebook post.
An evolving feed in the Google app just for you
This week Google announced further updates to the personalised feed in the Google app.
The feed was first introduced in December last year, tailoring the content to the interests of the user so they would see more stories that are relevant and interesting to them.
Google has said that "Since introducing the feed in December, we've advanced our machine learning algorithms to better anticipate what's interesting and important to you."
The cards in the feed contain things like sports highlights, top news, videos, music and other stories. Google now also takes into account what's trending in the user's area as well as globally, to further inform what content appears in the user's feed.
"As the world and your interests change, your feed will continue to grow and evolve along with you. You'll notice that your feed will also reflect your interest level for various topics—for example, if you're a photography enthusiast but just casually interested in fitness, your feed will show that." Google said.
Users will also now see a 'follow' button next to some search results, so they can inform Google that they want to see more about that person or topic.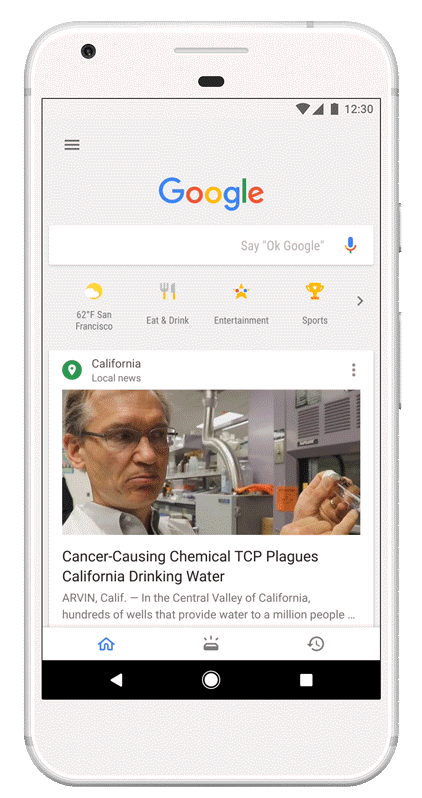 In line with a recent update to Google News, the feed will also display multiple stories for trending stories, so that users get information from multiple perspectives and sources.
The new feed will be available in the Google app for Android and iOS within Australia and New Zealand in the next few weeks. Check out the full post on the official Google blog for more.
Google introduces 'Ask Analytics Intelligence'
In a move that will have many amateur Google Analytics users rejoicing, Google has introduced a tool that will explain data to users in plain English.
The feature will use Google's natural language processing technology and will allow users to type a question into Analytics. The tool will then display the data that answers the user's question.
This could potentially save huge amounts of time and assist business owners and marketers with limited Analytics skills to access useful information about their site.
On top of answering questions, the Analytics Intelligence can also provide insights into the data, providing recommendations for improving metrics such as bounce rate or conversions.
"These insights can show spikes or drops in metrics like revenue or session duration, tipping you off to issues that you may need to investigate further." Google said.
The 'ask a question' tool will be available to all Analytics users within the next few weeks.
Further information, as well as examples of the types of questions you can ask, can be found on the Analytics help site.
Google Home makes it to Oz
After first becoming available in the US late last year, Google Home is now finally available for purchase in Australia.
If you're not already familiar with it, Google Home is a device that uses Google's artificial intelligence technology to answer queries, perform tasks online and even control other forms of technology.
"With a simple "Ok Google", you can get answers, turn up the music, manage your everyday tasks or even turn on or adjust your compatible smart lights." Google said.
Unlike the Google Home that has been available in the States, this version has one small difference: an Australian accent with typical Australian phrases. The device has been tailored for the Aussie market by including common phrases that may not be used elsewhere, that many Australians would use everyday.
"With a distinctly Aussie voice, your Assistant on Google Home speaks and understands your language. Ask it for brekkie ideas or where the nearest servo is. You can also ask it what sound a Kookaburra makes, and it'll cue the laughter we all know and love. And of course, we've hidden a few Aussie treats for you to discover along the way. Why not try asking your Assistant on Google Home "Are you going to Bonnie Doon?"
Classic.
The Google Home became available this week in stores such as JB Hi Fi, Harvey Norman and Officeworks. Visit the official post on the Google Australia blog for more information about how the device works.